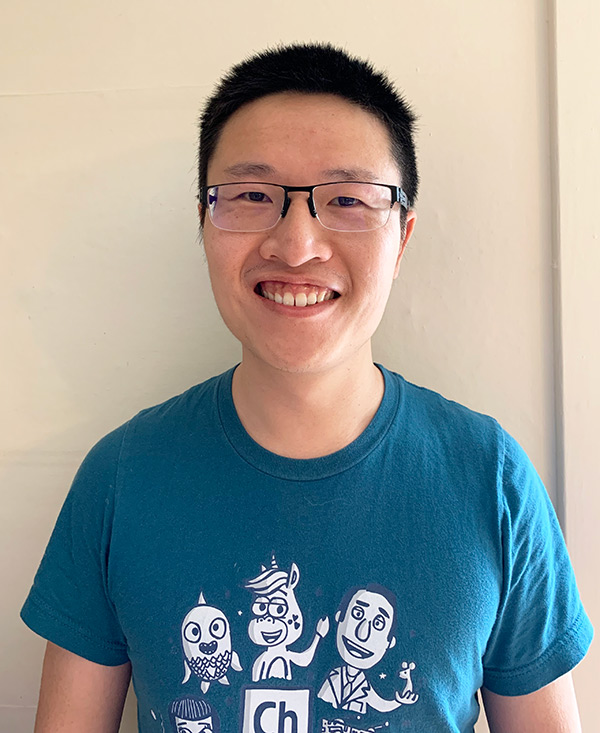 ---
News
Oct 2022 - CrossA11y won a Best Paper Award!!
Stay tuned for more details! I will attend UIST 2022 in person. Let's chat in person. Shoot me an email!
April 2022 - Our work on Snooping neural network is featured in a CACM news article!
Our prototype shows it is possible to extract both the high-level network topology and detailed hyperparameters. Read the blog here.
March 2022 - Our Audio-driven Gesture Animation paper was accepted to CVPR 2022!
Synthesize high-quality videos via reenactment from novel video motion graph.
Feb 2022 — I am promoted to Senior Research Scientist!
This would not be possible without my interns, collaborators, and Adobe colleagues! Thank you all!
More news...
Internship and collaboration at Adobe Research (flexible schedule in 2024): if you are a PhD student interested in a research internship on audio/video understanding and its applications, please send me an email with your CV and a summary of your research interests.
About
I am a Senior Research Scientist at Adobe Research. I got my PhD in Computer Science from Columbia University and BEng from HKUST.
I am interested in building novel creative tools, using the latest advances from vision, graphics, machine learning, and HCI. My past research and engineering has been recognized by two ACM UIST Best Paper Awards 🏅 (2022 and 2017), an Emmy Award 🏆 for Technology and Engineering (2020), two Adobe MAX Sneaks Demos ✨(2019 , 2020), an Adobe Research Fellowship 🎓 (2017), a NVIDIA PhD Fellowship Finalist (2017), a Shapeways Educational Grant 🧧 (2016), and an HKUST academic achievement medal 🥇 (2013). I have served as international program committee members for Eurographics, Graphics Interface, and ACM Multimedia, and as reviewers for many top academic conferences including UIST, CHI, SIGGRAPH, CVPR, ICCV, etc. From 2019-2022, I served as the Adobe Fellowship program co-chair, recognizing outstanding PhD students conducting exceptional research.
I'm always looking for interns and collaborators to work on research projects leading to publications/patents/product features. Please feel free to reach out to learn more.
In my personal time, I host two podcasts -- Not Just Research (Youtube or Audio Podcast) in English and 李丁聊天室(Youtube and Audio Podcast) in Chinese. The topics I cover are quite diverse, mostly about research and some about life/investment/etc.
Publications
CrossA11y: Identifying Video Accessibility Issues via Cross-modal Grounding
Xingyu "Bruce" Liu, Ruolin Wang, Dingzeyu Li, Xiang "Anthony" Chen, Amy Pavel
UIST 2022

Best Paper Award
[pdf] [project] [video]
Beyond Subtitles: Captioning and Visualizing Non-speech Sounds to Improve Accessibility of User-Generated Videos
Oliver Alonzo, Hijung Valentina Shin, Dingzeyu Li
ASSETS 2022
[pdf] [project] [presentation video]
Audio-driven Neural Gesture Reenactment with Video Motion Graphs
Yang Zhou, Jimei Yang, Dingzeyu Li, Jun Saito, Deepali Aneja, Evangelos Kalogerakis
CVPR 2022
[pdf] [project] [code]
Can one hear the shape of a neural network?: Snooping the GPU via Magnetic Side Channel
Henrique Teles Maia, Chang Xiao, Dingzeyu Li, Eitan Grinspun, Changxi Zheng
USENIX Security 2022
[arxiv] [previous ICLR submission]
Toward Automatic Audio Description Generation for Accessible Videos
Yujia Wang, Wei Liang, Haikun Huang, Yongqi Zhang, Dingzeyu Li, Lap-Fai Yu
CHI 2021
[pdf]
MakeItTalk: Speaker-Aware Talking Head Animation
Yang Zhou, Xintong Han, Eli Shechtman, Jose Echevarria, Evangelos Kalogerakis, Dingzeyu Li
SIGGRAPH Asia 2020
[arxiv] [video] [code]
[MAX Sneaks demo] [TechCrunch] [Adobe blog]
Unified Multisensory Perception: Weakly-Supervised Audio-Visual Video Parsing
Yapeng Tian, Dingzeyu Li, Chenliang Xu
ECCV 2020 (Spotlight)
[pdf] [arxiv] [project page] [code]
CVPR 2020 Sight and Sound Workshop
[pdf] [video]
Deep Audio Prior
Yapeng Tian, Chenliang Xu, Dingzeyu Li
CVPR 2020 Sight and Sound Workshop
[pdf] [video]
arxiv 2020
[arxiv] [pdf] [code] [demo]
Scene-Aware Audio Rendering via Deep Acoustic Analysis
Zhenyu Tang, Nicholas J. Bryan, Dingzeyu Li, Timothy R. Langlois, Dinesh Manocha
IEEE VR 2020 (Journal Track) / TVCG
[arxiv] [project page] [video] [code]
Scene-Aware Background Music Synthesis
Yujia Wang, Wei Liang, Wanwan Li, Dingzeyu Li, Lap-Fai Yu
ACM Multimedia 2020 (Oral Presentation)
[pdf]
LayerCode: Optical Barcodes for 3D Printed Shapes
Henrique Teles Maia, Dingzeyu Li, Yuan Yang, Changxi Zheng
SIGGRAPH 2019
[pdf] [low-res] [video] [project page with dataset] [code]
Audible Panorama: Automatic Spatial Audio Generation for Panorama Imagery
Haikun Huang, Michael Solah, Dingzeyu Li, Lap-Fai Yu
CHI 2019
[pdf] [low-res] [video] [project page] [sound database]
Scene-Aware Audio for 360° Videos
Dingzeyu Li, Timothy R. Langlois, Changxi Zheng
SIGGRAPH 2018
[pdf] [low-res] [video] [project page]
AirCode: Unobtrusive Physical Tags for Digital Fabrication
Dingzeyu Li, Avinash S. Nair, Shree K. Nayar, Changxi Zheng
UIST 2017

Best Paper Award
[pdf] [low-res] [video] [slides] [talk] [code] [project page]
Interacting with Acoustic Simulation and Fabrication
Dingzeyu Li
UIST 2017 Doctoral Symposium
[pdf] [arxiv]
Crumpling Sound Synthesis
Gabriel Cirio, Dingzeyu Li, Eitan Grinspun, Miguel A. Otaduy, Changxi Zheng
SIGGRAPH Asia 2016
[pdf] [low-res] [user study code] [video] [project page]
Acoustic Voxels: Computational Optimization of Modular Acoustic Filters
Dingzeyu Li, David I.W. Levin, Wojciech Matusik, Changxi Zheng
SIGGRAPH 2016
[pdf] [low-res] [video] [slides] [project page]
Interactive Acoustic Transfer Approximation for Modal Sound
Dingzeyu Li, Yun Fei, Changxi Zheng
SIGGRAPH 2016
[pdf] [low-res] [video] [slides] [project page]
Expediting Precomputation for Reduced Deformable Simulation
Yin Yang, Dingzeyu Li, Weiwei Xu, Yuan Tian, Changxi Zheng
SIGGRAPH Asia 2015
[pdf] [low-res] [video] [project page]
Motion-Aware KNN Laplacian for Video Matting
Dingzeyu Li, Qifeng Chen, Chi-Keung Tang
ICCV 2013
[pdf] [video] [project page]
KNN Matting
Qifeng Chen, Dingzeyu Li, Chi-Keung Tang
TPAMI 2013
[pdf] [code] [project page]
KNN Matting
Qifeng Chen, Dingzeyu Li, Chi-Keung Tang
CVPR 2012
[pdf] [code] [project page]
(Public) Product Impacts, Tech Transfers, and Demos
Speech-Aware Animation
Shipped in Adobe Character Animator 2020, Sensei-powered ML Feature
[Official Release Note] [Public Beta Release Note]
Press Coverage: [Forbes Coverage] [9to5Mac] [VentureBeat] [EnterpriseTalk] [Animation World Network] [Computer Graphics World] [BlogCritics] [ProVideo Coalition] [Animation Magazine]
Lead Researcher/Developer: Dingzeyu Li
Project On the Beat: An AI-powered music video editing tool for synchronizing body movements to beats
Adobe MAX Sneaks Demo 2020
[video] [Protocol] [Adobe blog]
Presenter: Yang Zhou
Collaborators: Dingzeyu Li, Jun Saito, Deepali Aneja, Jimei Yang
Project Sweet Talk: Audio Driven Facial Animation from Single Image
Adobe MAX Sneaks Demo 2019
[video] [TechCrunch] [Adobe blog]
Presenter: Dingzeyu Li
Collaborators: Yang Zhou, Jose Echevarria, Eli Shechtman
Robust Noise-Resilient Automatic Lipsync and Interactive Adjustment
Shipped in Adobe Character Animator 2019 [Release Note]
Lead Researcher/Developer: Dingzeyu Li
Physics-Aware 3D Shape Drop to Ground
Shipped in Adobe Dimension 2019
Lead Researcher/Developer: Dingzeyu Li
Research Interns/Students Mentored
Xingyu (Bruce) Liu, UCLA HCI
2022 -- Topic: Tools to Improve Video Accessibility
2021 -- Topic: Tools for Making Videos Accessible to Deaf and Hard-of-Hearing People
Next: Assistant Professor @ Creighton University
2021 -- Topic: Tools for Making Videos Accessible to the Blind and Visually Impaired
2019 -- Topic: Deep Audio Prior & Multimodal Video Parsing
Next: Assistant Professor @ University of Texas at Dallas
2020 -- Topic: Automatic Audio Description Synthesis for the Blind and Visually Impaired
2019 -- Topic: Automatic Scene-Aware Background Music Synthesis
2020 -- Topic: Causality Analysis in Audiovisual Understanding
2020 -- Topic: Snooping the GPU and Neural Network via Magnetic Side Channel
2018 -- Topic: Invisible Tags in 3D Printing via Layer-by-Layer Nature
2020 -- Topic: Audio-driven Upper Body Gesture Synthesis
2019 -- Topic: Audio-driven Facial and Talking Head Synthesis
Next: Research Scientist @ Adobe Research
2019 -- Topic: Room Acoustic Analysis with Deep Learning
Next: Research Scientist @ Tiktok / Bytedance
2017 -- Topic: Invisible Tags in 3D Printing via Subsurface Scattering
Next: Cruise
Patents
Granted:
Rendering Scene-Aware Audio Using Neural Network-Based Acoustic Analysis. Filed in 2019, Granted in 2021. [link]
Style-Aware Audio-Driven Talking Head Animation From a Single Image. Filed in 2020, Granted in 2022. [link]
Segmentation and Hierarchical Clustering of Video. Filed in 2020, Granted in 2022. [link]
Filed: